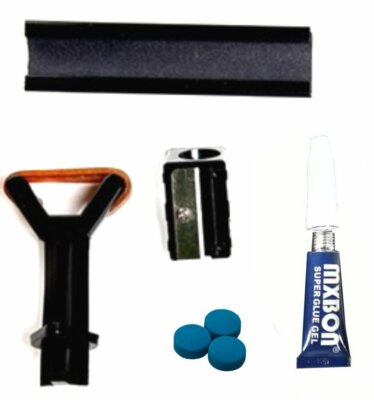 Click here to see similar items on eBay, and to buy.
Everything you need to repair or replace a tip on your cue.Essential Repair Kit including 3 Elk Master tips (FREE) at 10mm and sharperner if you ferrule is slightly smaller.
Please Note: Some products may vary in colour –
Sharperners could be Red or Black, Scuffers and tip sanders could be Black/Brownpaper.
EssentailKit Comprises(See Picture) inclusive of 3 Elk Tips (10mm) FREE
1Nylon Tip Fastener
1 Formed Tip Sander
1 Tip Shaperner (Red or Black)
1 Gel Super Glue
3 Elk 10mm Tips (FREE)SEE our Other products for Brass or Titanium Ferrules & Cement.We do offer a ferrule replacement Fitting service.Just contact regarding this.
Click here to buy, and to see similar items on eBay
 
Similar items: