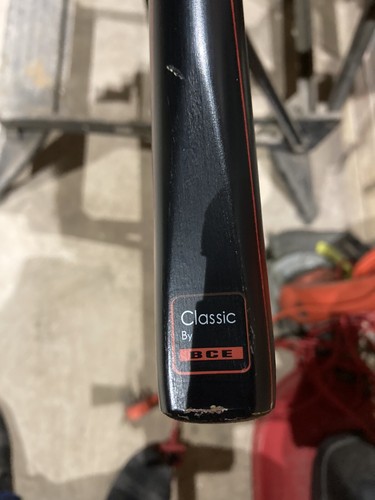 Click here to see similar items on eBay, and to buy.
BCE Classic Snooker Cue.
Comes complete as a two piece model but hasnt been used for a long time. Will require some TLC to get back to a very good standard.
Cue comes with a bag case which isnt the actual size so the tip will be exposed. Collection from Knottingley preferred, delivery local to Knottingley (for fuel cost) or postage.
Click here to buy, and to see similar items on eBay
 
Similar items:
Sorted by relevance. Sort by Price
Items 1 to


---
Error

Error when getting the index:products-allinfo

| Parameter Name | Parameter Value |
| --- | --- |
| start | 0 |
| q | BCE Classic Snooker Cue |
| length | 15 |
| indexName | products-allinfo |
| booleanOperator | and |
| templateName | jeffplugin1col |
| Attribute Name | Attribute Value |
| javax.servlet.forward.request_uri | /dbsight/search.do |
| javax.servlet.forward.context_path | /dbsight |
| javax.servlet.forward.servlet_path | /search.do |
| javax.servlet.forward.query_string | indexName=products-allinfo&templateName=jeffplugin1col&length=15&q=BCE+Classic+Snooker+Cue++&booleanOperator=and&start=0 |
| org.apache.struts.action.MESSAGE | org.apache.struts.util.PropertyMessageResources@379b5b05 |
| org.apache.struts.action.ERROR | {error=[action.showIndexStatus.index.error[products-allinfo]]} |
| layout | Empty.vm |
| multi | false |
| indexName | products-allinfo |
| org.apache.struts.action.mapping.instance | ActionConfig[path=/search,scope=request,type=net.javacoding.xsearch.search.action.SearchAction |
| templateName | jeffplugin1col |
| org.apache.struts.action.MODULE | org.apache.struts.config.impl.ModuleConfigImpl@61905d65 |
| Header Name | Header Value |
| host | website4.co.uk:8080 |
| connection | close |
| Request Information | Value |
| Scheme | http |
| Request Method | GET |
| Request URI | /dbsight/displaySearchError.vm |
| Request Protocol | HTTP/1.0 |
| Servlet Path | /displaySearchError.vm |
| Path Info | |
| Path Translated | |
| Query String | indexName=products-allinfo&templateName=jeffplugin1col&length=15&q=BCE+Classic+Snooker+Cue++&booleanOperator=and&start=0 |
| Content Length | -1 |
| Content Type | |
| Server Name | website4.co.uk |
| Server Port | 8080 |
| Remote User | |
| Remote Address | 95.217.197.96 |
| Remote Host | 95.217.197.96 |
| Authorization Scheme | |
| | |
| --- | --- |
| | |
---
Error

Error when getting the index:products-allinfo

| Parameter Name | Parameter Value |
| --- | --- |
| start | 0 |
| q | BCE Classic Snooker Cue |
| length | 15 |
| indexName | products-allinfo |
| booleanOperator | and |
| templateName | jeffplugin1col |
| Attribute Name | Attribute Value |
| javax.servlet.forward.request_uri | /dbsight/search.do |
| javax.servlet.forward.context_path | /dbsight |
| javax.servlet.forward.servlet_path | /search.do |
| javax.servlet.forward.query_string | indexName=products-allinfo&templateName=jeffplugin1col&length=15&q=BCE+Classic+Snooker+Cue++&booleanOperator=and&start=0 |
| org.apache.struts.action.MESSAGE | org.apache.struts.util.PropertyMessageResources@379b5b05 |
| org.apache.struts.action.ERROR | {error=[action.showIndexStatus.index.error[products-allinfo]]} |
| layout | Empty.vm |
| multi | false |
| indexName | products-allinfo |
| org.apache.struts.action.mapping.instance | ActionConfig[path=/search,scope=request,type=net.javacoding.xsearch.search.action.SearchAction |
| templateName | jeffplugin1col |
| org.apache.struts.action.MODULE | org.apache.struts.config.impl.ModuleConfigImpl@61905d65 |
| Header Name | Header Value |
| host | website4.co.uk:8080 |
| connection | close |
| Request Information | Value |
| Scheme | http |
| Request Method | GET |
| Request URI | /dbsight/displaySearchError.vm |
| Request Protocol | HTTP/1.0 |
| Servlet Path | /displaySearchError.vm |
| Path Info | |
| Path Translated | |
| Query String | indexName=products-allinfo&templateName=jeffplugin1col&length=15&q=BCE+Classic+Snooker+Cue++&booleanOperator=and&start=0 |
| Content Length | -1 |
| Content Type | |
| Server Name | website4.co.uk |
| Server Port | 8080 |
| Remote User | |
| Remote Address | 95.217.197.96 |
| Remote Host | 95.217.197.96 |
| Authorization Scheme | |
| | |
| --- | --- |
| | |
---
Error

Error when getting the index:products-allinfo

| Parameter Name | Parameter Value |
| --- | --- |
| start | 0 |
| q | BCE Classic Snooker Cue |
| length | 15 |
| indexName | products-allinfo |
| booleanOperator | and |
| templateName | jeffplugin1col |
| Attribute Name | Attribute Value |
| javax.servlet.forward.request_uri | /dbsight/search.do |
| javax.servlet.forward.context_path | /dbsight |
| javax.servlet.forward.servlet_path | /search.do |
| javax.servlet.forward.query_string | indexName=products-allinfo&templateName=jeffplugin1col&length=15&q=BCE+Classic+Snooker+Cue++&booleanOperator=and&start=0 |
| org.apache.struts.action.MESSAGE | org.apache.struts.util.PropertyMessageResources@379b5b05 |
| org.apache.struts.action.ERROR | {error=[action.showIndexStatus.index.error[products-allinfo]]} |
| layout | Empty.vm |
| multi | false |
| indexName | products-allinfo |
| org.apache.struts.action.mapping.instance | ActionConfig[path=/search,scope=request,type=net.javacoding.xsearch.search.action.SearchAction |
| templateName | jeffplugin1col |
| org.apache.struts.action.MODULE | org.apache.struts.config.impl.ModuleConfigImpl@61905d65 |
| Header Name | Header Value |
| host | website4.co.uk:8080 |
| connection | close |
| Request Information | Value |
| Scheme | http |
| Request Method | GET |
| Request URI | /dbsight/displaySearchError.vm |
| Request Protocol | HTTP/1.0 |
| Servlet Path | /displaySearchError.vm |
| Path Info | |
| Path Translated | |
| Query String | indexName=products-allinfo&templateName=jeffplugin1col&length=15&q=BCE+Classic+Snooker+Cue++&booleanOperator=and&start=0 |
| Content Length | -1 |
| Content Type | |
| Server Name | website4.co.uk |
| Server Port | 8080 |
| Remote User | |
| Remote Address | 95.217.197.96 |
| Remote Host | 95.217.197.96 |
| Authorization Scheme | |
---
Category: Sporting Goods:Snooker and Pool:Cues
Location: Knottingley