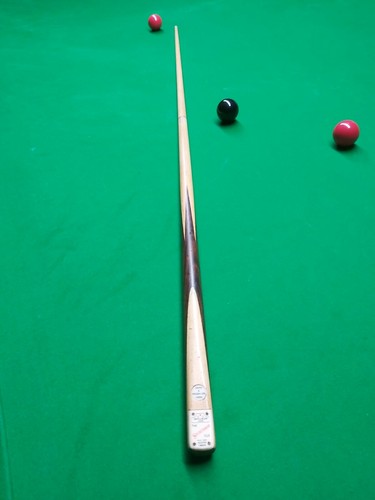 Click here to see similar items on eBay, and to buy.
history    :    (Info below kindly provided by Peter Ainsworth)
The beginnings of the firm are rather tenuous. In 1909 George Nelson (snr) was the Yorkshire Professional Billiards champion and at that time acted as representative for E. J. Riley, based in Accrington. He was made redundant from this job at the outbreak of War in 1914, but it seems to have been his lead into the trade, as he and his son, George Nelson (Jnr) were supplying billiard table cloth just after the War in the 1920s.This business gradually developed into other requisites (balls and cues) and by 1935 he was producing billiard tables. By the end of the 1930s they were well established as billiard table makers, trading as George Nelson (Billiards) Ltd- from 74 Vicar Lane, Leeds. Now, around the same time, Willie Smith was also putting his name to billiard tables which were produced at 13 Greek Street, also in Leeds. This company seems to have been fairly short-lived as the two businesses amalgamated as "Willie Smith and George Nelson Ltd" in 1940.This new company operated from Lower Headrow House, The Headrow, Leeds 1. Apparently, Willie Smith and George Nelson (snr) operated this company as "partners." By the 1950s, Peter Nelson, George's son, was running the company and Willie Smith sold his interest at this time (1953), although it continued to trade with his name. George Nelson (snr), who had retired from the business, died in December 1956, aged 79. In 1979 the company name was abbreviated to "Smith & Nelson Ltd" with the office and sales shop address given as Lower Headrow House, Bramley's Yard, The Headrow Leeds 1. Workshops and Showroom at 14 Armley Road.Peter Nelson died rather suddenly in 1981 aged 67, although the company survived and was still trading in 1989 when their advertised address was 70 North Street, Leeds LS2 7PN.
Click here to buy, and to see similar items on eBay
 
Similar items:
Sorted by relevance. Sort by Price
Items 1 to


---
Error

Error when getting the index:products-allinfo

| Parameter Name | Parameter Value |
| --- | --- |
| start | 0 |
| q | Antique snooker cue Smith And Nelson snooker Cue |
| length | 15 |
| indexName | products-allinfo |
| booleanOperator | and |
| templateName | jeffplugin1col |
| Attribute Name | Attribute Value |
| javax.servlet.forward.request_uri | /dbsight/search.do |
| javax.servlet.forward.context_path | /dbsight |
| javax.servlet.forward.servlet_path | /search.do |
| javax.servlet.forward.query_string | indexName=products-allinfo&templateName=jeffplugin1col&length=15&q=Antique+snooker+cue++Smith+And+Nelson+snooker+Cue++&booleanOperator=and&start=0 |
| org.apache.struts.action.MESSAGE | org.apache.struts.util.PropertyMessageResources@379b5b05 |
| org.apache.struts.action.ERROR | {error=[action.showIndexStatus.index.error[products-allinfo]]} |
| layout | Empty.vm |
| multi | false |
| indexName | products-allinfo |
| org.apache.struts.action.mapping.instance | ActionConfig[path=/search,scope=request,type=net.javacoding.xsearch.search.action.SearchAction |
| templateName | jeffplugin1col |
| org.apache.struts.action.MODULE | org.apache.struts.config.impl.ModuleConfigImpl@61905d65 |
| Header Name | Header Value |
| host | website4.co.uk:8080 |
| connection | close |
| Request Information | Value |
| Scheme | http |
| Request Method | GET |
| Request URI | /dbsight/displaySearchError.vm |
| Request Protocol | HTTP/1.0 |
| Servlet Path | /displaySearchError.vm |
| Path Info | |
| Path Translated | |
| Query String | indexName=products-allinfo&templateName=jeffplugin1col&length=15&q=Antique+snooker+cue++Smith+And+Nelson+snooker+Cue++&booleanOperator=and&start=0 |
| Content Length | -1 |
| Content Type | |
| Server Name | website4.co.uk |
| Server Port | 8080 |
| Remote User | |
| Remote Address | 95.217.197.96 |
| Remote Host | 95.217.197.96 |
| Authorization Scheme | |
| | |
| --- | --- |
| | |
---
Error

Error when getting the index:products-allinfo

| Parameter Name | Parameter Value |
| --- | --- |
| start | 0 |
| q | Antique snooker cue Smith And Nelson snooker Cue |
| length | 15 |
| indexName | products-allinfo |
| booleanOperator | and |
| templateName | jeffplugin1col |
| Attribute Name | Attribute Value |
| javax.servlet.forward.request_uri | /dbsight/search.do |
| javax.servlet.forward.context_path | /dbsight |
| javax.servlet.forward.servlet_path | /search.do |
| javax.servlet.forward.query_string | indexName=products-allinfo&templateName=jeffplugin1col&length=15&q=Antique+snooker+cue++Smith+And+Nelson+snooker+Cue++&booleanOperator=and&start=0 |
| org.apache.struts.action.MESSAGE | org.apache.struts.util.PropertyMessageResources@379b5b05 |
| org.apache.struts.action.ERROR | {error=[action.showIndexStatus.index.error[products-allinfo]]} |
| layout | Empty.vm |
| multi | false |
| indexName | products-allinfo |
| org.apache.struts.action.mapping.instance | ActionConfig[path=/search,scope=request,type=net.javacoding.xsearch.search.action.SearchAction |
| templateName | jeffplugin1col |
| org.apache.struts.action.MODULE | org.apache.struts.config.impl.ModuleConfigImpl@61905d65 |
| Header Name | Header Value |
| host | website4.co.uk:8080 |
| connection | close |
| Request Information | Value |
| Scheme | http |
| Request Method | GET |
| Request URI | /dbsight/displaySearchError.vm |
| Request Protocol | HTTP/1.0 |
| Servlet Path | /displaySearchError.vm |
| Path Info | |
| Path Translated | |
| Query String | indexName=products-allinfo&templateName=jeffplugin1col&length=15&q=Antique+snooker+cue++Smith+And+Nelson+snooker+Cue++&booleanOperator=and&start=0 |
| Content Length | -1 |
| Content Type | |
| Server Name | website4.co.uk |
| Server Port | 8080 |
| Remote User | |
| Remote Address | 95.217.197.96 |
| Remote Host | 95.217.197.96 |
| Authorization Scheme | |
| | |
| --- | --- |
| | |
---
Error

Error when getting the index:products-allinfo

| Parameter Name | Parameter Value |
| --- | --- |
| start | 0 |
| q | Antique snooker cue Smith And Nelson snooker Cue |
| length | 15 |
| indexName | products-allinfo |
| booleanOperator | and |
| templateName | jeffplugin1col |
| Attribute Name | Attribute Value |
| javax.servlet.forward.request_uri | /dbsight/search.do |
| javax.servlet.forward.context_path | /dbsight |
| javax.servlet.forward.servlet_path | /search.do |
| javax.servlet.forward.query_string | indexName=products-allinfo&templateName=jeffplugin1col&length=15&q=Antique+snooker+cue++Smith+And+Nelson+snooker+Cue++&booleanOperator=and&start=0 |
| org.apache.struts.action.MESSAGE | org.apache.struts.util.PropertyMessageResources@379b5b05 |
| org.apache.struts.action.ERROR | {error=[action.showIndexStatus.index.error[products-allinfo]]} |
| layout | Empty.vm |
| multi | false |
| indexName | products-allinfo |
| org.apache.struts.action.mapping.instance | ActionConfig[path=/search,scope=request,type=net.javacoding.xsearch.search.action.SearchAction |
| templateName | jeffplugin1col |
| org.apache.struts.action.MODULE | org.apache.struts.config.impl.ModuleConfigImpl@61905d65 |
| Header Name | Header Value |
| host | website4.co.uk:8080 |
| connection | close |
| Request Information | Value |
| Scheme | http |
| Request Method | GET |
| Request URI | /dbsight/displaySearchError.vm |
| Request Protocol | HTTP/1.0 |
| Servlet Path | /displaySearchError.vm |
| Path Info | |
| Path Translated | |
| Query String | indexName=products-allinfo&templateName=jeffplugin1col&length=15&q=Antique+snooker+cue++Smith+And+Nelson+snooker+Cue++&booleanOperator=and&start=0 |
| Content Length | -1 |
| Content Type | |
| Server Name | website4.co.uk |
| Server Port | 8080 |
| Remote User | |
| Remote Address | 95.217.197.96 |
| Remote Host | 95.217.197.96 |
| Authorization Scheme | |
---
Category: Sporting Goods:Snooker and Pool:Cues
Location: Bangor

See more from eBay…
https://snookertalk.co.uk/wp-content/plugins/jeff/ebay.php?find=Antique+snooker+cue++Smith+And+Nelson+snooker+Cue++