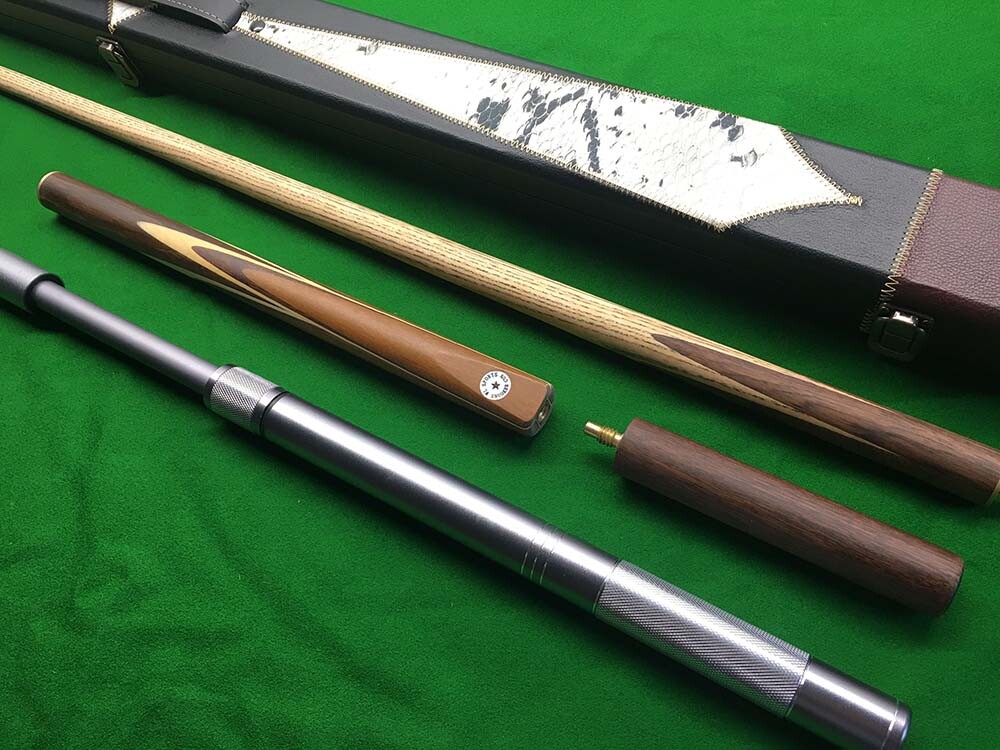 Click here to see similar items on eBay, and to buy.
Christmas is coming and nobody wants more socks!! Why not treat yourself or get a loved one to treat you to something you actually want!
For auction is my W&L handmade ash cue with case. This is multi spliced with Rosewood and looks stunning. The shaft is silky smooth and feels nicely balanced when in the hand. Cue is straight and true with a medium flex shaft which gives plenty of cue ball reaction. Cue is in brand new condition. This cue is fantastic value for money, and you do not need to pay silly money for top brand cues as it plays as good as anything out there on the market. Case is solid and brand new, also it comes with a minibutt and a telescopic extension.
Specs are as follows,
Length 57.1 inch
weight 18oz approx.
tip 9.5mm fitted
Buyer will not be dissapointed.
Good luck!!!
Click here to buy, and to see similar items on eBay
 
Similar items:
Sorted by relevance. Sort by Price
Items 1 to


---
Error

Error when getting the index:products-allinfo

| Parameter Name | Parameter Value |
| --- | --- |
| start | 0 |
| q | 3/4 Handmade Rosewood Ash Snooker Cue Pool Cue set N Case Extension |
| length | 15 |
| indexName | products-allinfo |
| booleanOperator | and |
| templateName | jeffplugin1col |
| Attribute Name | Attribute Value |
| javax.servlet.forward.request_uri | /dbsight/search.do |
| javax.servlet.forward.context_path | /dbsight |
| javax.servlet.forward.servlet_path | /search.do |
| javax.servlet.forward.query_string | indexName=products-allinfo&templateName=jeffplugin1col&length=15&q=3%2F4+Handmade+Rosewood+Ash+Snooker+Cue+Pool+Cue+set+N+Case+Extension++&booleanOperator=and&start=0 |
| org.apache.struts.action.MESSAGE | org.apache.struts.util.PropertyMessageResources@379b5b05 |
| org.apache.struts.action.ERROR | {error=[action.showIndexStatus.index.error[products-allinfo]]} |
| layout | Empty.vm |
| multi | false |
| indexName | products-allinfo |
| org.apache.struts.action.mapping.instance | ActionConfig[path=/search,scope=request,type=net.javacoding.xsearch.search.action.SearchAction |
| templateName | jeffplugin1col |
| org.apache.struts.action.MODULE | org.apache.struts.config.impl.ModuleConfigImpl@61905d65 |
| Header Name | Header Value |
| host | website4.co.uk:8080 |
| connection | close |
| Request Information | Value |
| Scheme | http |
| Request Method | GET |
| Request URI | /dbsight/displaySearchError.vm |
| Request Protocol | HTTP/1.0 |
| Servlet Path | /displaySearchError.vm |
| Path Info | |
| Path Translated | |
| Query String | indexName=products-allinfo&templateName=jeffplugin1col&length=15&q=3%2F4+Handmade+Rosewood+Ash+Snooker+Cue+Pool+Cue+set+N+Case+Extension++&booleanOperator=and&start=0 |
| Content Length | -1 |
| Content Type | |
| Server Name | website4.co.uk |
| Server Port | 8080 |
| Remote User | |
| Remote Address | 95.217.197.96 |
| Remote Host | 95.217.197.96 |
| Authorization Scheme | |
| | |
| --- | --- |
| | |
---
Error

Error when getting the index:products-allinfo

| Parameter Name | Parameter Value |
| --- | --- |
| start | 0 |
| q | 3/4 Handmade Rosewood Ash Snooker Cue Pool Cue set N Case Extension |
| length | 15 |
| indexName | products-allinfo |
| booleanOperator | and |
| templateName | jeffplugin1col |
| Attribute Name | Attribute Value |
| javax.servlet.forward.request_uri | /dbsight/search.do |
| javax.servlet.forward.context_path | /dbsight |
| javax.servlet.forward.servlet_path | /search.do |
| javax.servlet.forward.query_string | indexName=products-allinfo&templateName=jeffplugin1col&length=15&q=3%2F4+Handmade+Rosewood+Ash+Snooker+Cue+Pool+Cue+set+N+Case+Extension++&booleanOperator=and&start=0 |
| org.apache.struts.action.MESSAGE | org.apache.struts.util.PropertyMessageResources@379b5b05 |
| org.apache.struts.action.ERROR | {error=[action.showIndexStatus.index.error[products-allinfo]]} |
| layout | Empty.vm |
| multi | false |
| indexName | products-allinfo |
| org.apache.struts.action.mapping.instance | ActionConfig[path=/search,scope=request,type=net.javacoding.xsearch.search.action.SearchAction |
| templateName | jeffplugin1col |
| org.apache.struts.action.MODULE | org.apache.struts.config.impl.ModuleConfigImpl@61905d65 |
| Header Name | Header Value |
| host | website4.co.uk:8080 |
| connection | close |
| Request Information | Value |
| Scheme | http |
| Request Method | GET |
| Request URI | /dbsight/displaySearchError.vm |
| Request Protocol | HTTP/1.0 |
| Servlet Path | /displaySearchError.vm |
| Path Info | |
| Path Translated | |
| Query String | indexName=products-allinfo&templateName=jeffplugin1col&length=15&q=3%2F4+Handmade+Rosewood+Ash+Snooker+Cue+Pool+Cue+set+N+Case+Extension++&booleanOperator=and&start=0 |
| Content Length | -1 |
| Content Type | |
| Server Name | website4.co.uk |
| Server Port | 8080 |
| Remote User | |
| Remote Address | 95.217.197.96 |
| Remote Host | 95.217.197.96 |
| Authorization Scheme | |
| | |
| --- | --- |
| | |
---
Error

Error when getting the index:products-allinfo

| Parameter Name | Parameter Value |
| --- | --- |
| start | 0 |
| q | 3/4 Handmade Rosewood Ash Snooker Cue Pool Cue set N Case Extension |
| length | 15 |
| indexName | products-allinfo |
| booleanOperator | and |
| templateName | jeffplugin1col |
| Attribute Name | Attribute Value |
| javax.servlet.forward.request_uri | /dbsight/search.do |
| javax.servlet.forward.context_path | /dbsight |
| javax.servlet.forward.servlet_path | /search.do |
| javax.servlet.forward.query_string | indexName=products-allinfo&templateName=jeffplugin1col&length=15&q=3%2F4+Handmade+Rosewood+Ash+Snooker+Cue+Pool+Cue+set+N+Case+Extension++&booleanOperator=and&start=0 |
| org.apache.struts.action.MESSAGE | org.apache.struts.util.PropertyMessageResources@379b5b05 |
| org.apache.struts.action.ERROR | {error=[action.showIndexStatus.index.error[products-allinfo]]} |
| layout | Empty.vm |
| multi | false |
| indexName | products-allinfo |
| org.apache.struts.action.mapping.instance | ActionConfig[path=/search,scope=request,type=net.javacoding.xsearch.search.action.SearchAction |
| templateName | jeffplugin1col |
| org.apache.struts.action.MODULE | org.apache.struts.config.impl.ModuleConfigImpl@61905d65 |
| Header Name | Header Value |
| host | website4.co.uk:8080 |
| connection | close |
| Request Information | Value |
| Scheme | http |
| Request Method | GET |
| Request URI | /dbsight/displaySearchError.vm |
| Request Protocol | HTTP/1.0 |
| Servlet Path | /displaySearchError.vm |
| Path Info | |
| Path Translated | |
| Query String | indexName=products-allinfo&templateName=jeffplugin1col&length=15&q=3%2F4+Handmade+Rosewood+Ash+Snooker+Cue+Pool+Cue+set+N+Case+Extension++&booleanOperator=and&start=0 |
| Content Length | -1 |
| Content Type | |
| Server Name | website4.co.uk |
| Server Port | 8080 |
| Remote User | |
| Remote Address | 95.217.197.96 |
| Remote Host | 95.217.197.96 |
| Authorization Scheme | |
---
Category: Sporting Goods:Snooker and Pool:Cue Cases
Location: ENGLAND


3/4 Handmade Rosewood Ash Snooker Cue Pool Cue set N Case Extension
£54.99

3/4 Handmade Rosewood Ash Snooker Cue Pool Cue set N Case Extension
£54.99
See more from eBay…
https://snookertalk.co.uk/wp-content/plugins/jeff/ebay.php?find=3%2F4+Handmade+Rosewood+Ash+Snooker+Cue+Pool+Cue+set+N+Case+Extension++