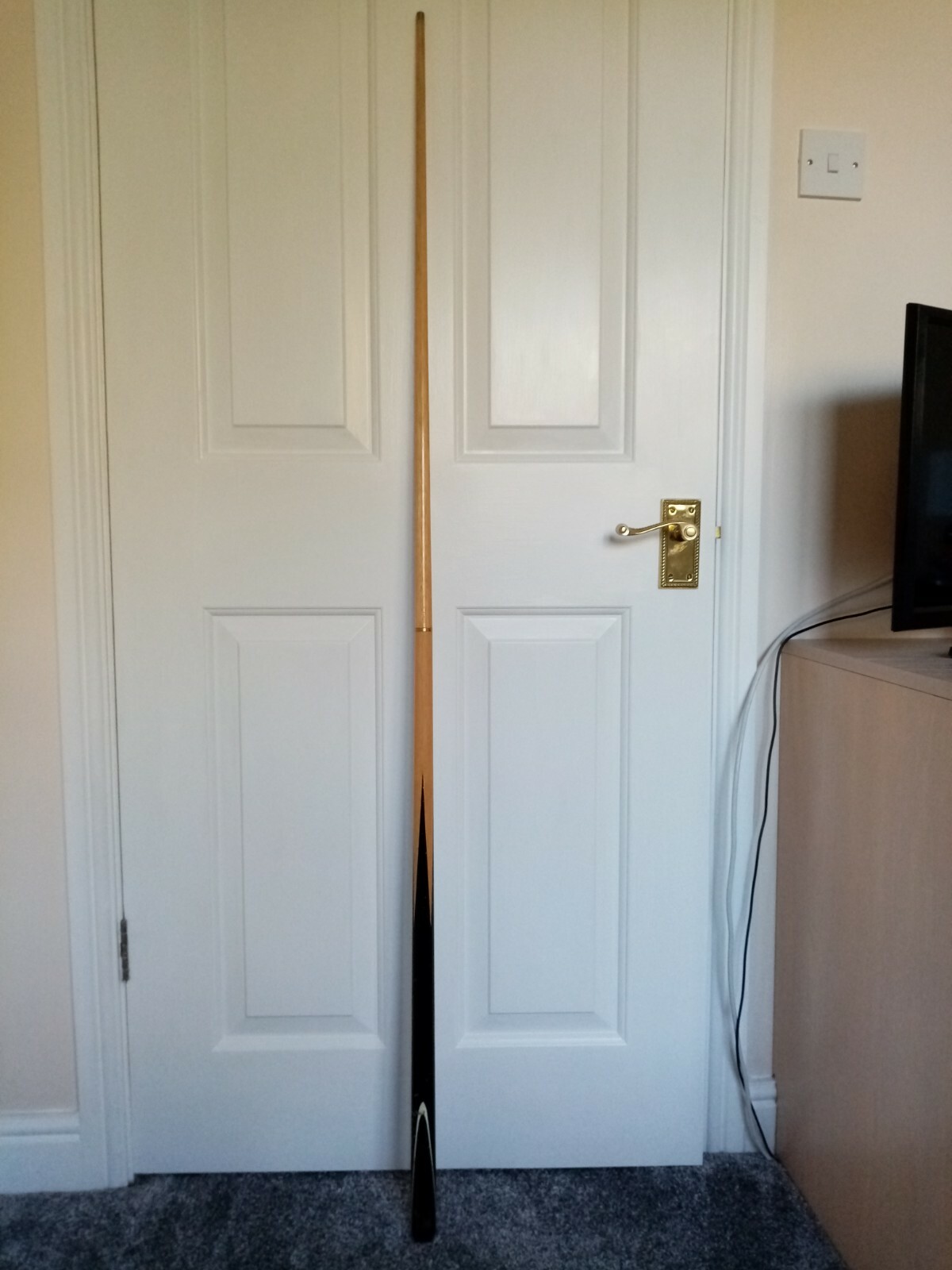 Click here to see similar items on eBay, and to buy.
This 2 Piece Unicorn Snooker Cue is in decent condition and does have minor scratches to the varnish at the but end as shown in the photo's.
The cue measures 148cm in length and is dead straight. The tip is 9mm and the but is 3cm in diameter. It weighs 491gms (17.3oz) and has a balance point of 47cm. As the photo's show, it is a machine made cue.
Should you have any questions then please get in touch.   
Click here to buy, and to see similar items on eBay
 
Similar items:
Sorted by relevance. Sort by Price
Items 1 to


---
Error

Error when getting the index:products-allinfo

| Parameter Name | Parameter Value |
| --- | --- |
| start | 0 |
| q | 2 Piece Unicorn Snooker Cue |
| length | 15 |
| indexName | products-allinfo |
| booleanOperator | and |
| templateName | jeffplugin1col |
| Attribute Name | Attribute Value |
| javax.servlet.forward.request_uri | /dbsight/search.do |
| javax.servlet.forward.context_path | /dbsight |
| javax.servlet.forward.servlet_path | /search.do |
| javax.servlet.forward.query_string | indexName=products-allinfo&templateName=jeffplugin1col&length=15&q=2+Piece+Unicorn+Snooker+Cue++&booleanOperator=and&start=0 |
| org.apache.struts.action.MESSAGE | org.apache.struts.util.PropertyMessageResources@379b5b05 |
| org.apache.struts.action.ERROR | {error=[action.showIndexStatus.index.error[products-allinfo]]} |
| layout | Empty.vm |
| multi | false |
| indexName | products-allinfo |
| org.apache.struts.action.mapping.instance | ActionConfig[path=/search,scope=request,type=net.javacoding.xsearch.search.action.SearchAction |
| templateName | jeffplugin1col |
| org.apache.struts.action.MODULE | org.apache.struts.config.impl.ModuleConfigImpl@61905d65 |
| Header Name | Header Value |
| host | website4.co.uk:8080 |
| connection | close |
| Request Information | Value |
| Scheme | http |
| Request Method | GET |
| Request URI | /dbsight/displaySearchError.vm |
| Request Protocol | HTTP/1.0 |
| Servlet Path | /displaySearchError.vm |
| Path Info | |
| Path Translated | |
| Query String | indexName=products-allinfo&templateName=jeffplugin1col&length=15&q=2+Piece+Unicorn+Snooker+Cue++&booleanOperator=and&start=0 |
| Content Length | -1 |
| Content Type | |
| Server Name | website4.co.uk |
| Server Port | 8080 |
| Remote User | |
| Remote Address | 95.217.197.96 |
| Remote Host | 95.217.197.96 |
| Authorization Scheme | |
| | |
| --- | --- |
| | |
---
Error

Error when getting the index:products-allinfo

| Parameter Name | Parameter Value |
| --- | --- |
| start | 0 |
| q | 2 Piece Unicorn Snooker Cue |
| length | 15 |
| indexName | products-allinfo |
| booleanOperator | and |
| templateName | jeffplugin1col |
| Attribute Name | Attribute Value |
| javax.servlet.forward.request_uri | /dbsight/search.do |
| javax.servlet.forward.context_path | /dbsight |
| javax.servlet.forward.servlet_path | /search.do |
| javax.servlet.forward.query_string | indexName=products-allinfo&templateName=jeffplugin1col&length=15&q=2+Piece+Unicorn+Snooker+Cue++&booleanOperator=and&start=0 |
| org.apache.struts.action.MESSAGE | org.apache.struts.util.PropertyMessageResources@379b5b05 |
| org.apache.struts.action.ERROR | {error=[action.showIndexStatus.index.error[products-allinfo]]} |
| layout | Empty.vm |
| multi | false |
| indexName | products-allinfo |
| org.apache.struts.action.mapping.instance | ActionConfig[path=/search,scope=request,type=net.javacoding.xsearch.search.action.SearchAction |
| templateName | jeffplugin1col |
| org.apache.struts.action.MODULE | org.apache.struts.config.impl.ModuleConfigImpl@61905d65 |
| Header Name | Header Value |
| host | website4.co.uk:8080 |
| connection | close |
| Request Information | Value |
| Scheme | http |
| Request Method | GET |
| Request URI | /dbsight/displaySearchError.vm |
| Request Protocol | HTTP/1.0 |
| Servlet Path | /displaySearchError.vm |
| Path Info | |
| Path Translated | |
| Query String | indexName=products-allinfo&templateName=jeffplugin1col&length=15&q=2+Piece+Unicorn+Snooker+Cue++&booleanOperator=and&start=0 |
| Content Length | -1 |
| Content Type | |
| Server Name | website4.co.uk |
| Server Port | 8080 |
| Remote User | |
| Remote Address | 95.217.197.96 |
| Remote Host | 95.217.197.96 |
| Authorization Scheme | |
| | |
| --- | --- |
| | |
---
Error

Error when getting the index:products-allinfo

| Parameter Name | Parameter Value |
| --- | --- |
| start | 0 |
| q | 2 Piece Unicorn Snooker Cue |
| length | 15 |
| indexName | products-allinfo |
| booleanOperator | and |
| templateName | jeffplugin1col |
| Attribute Name | Attribute Value |
| javax.servlet.forward.request_uri | /dbsight/search.do |
| javax.servlet.forward.context_path | /dbsight |
| javax.servlet.forward.servlet_path | /search.do |
| javax.servlet.forward.query_string | indexName=products-allinfo&templateName=jeffplugin1col&length=15&q=2+Piece+Unicorn+Snooker+Cue++&booleanOperator=and&start=0 |
| org.apache.struts.action.MESSAGE | org.apache.struts.util.PropertyMessageResources@379b5b05 |
| org.apache.struts.action.ERROR | {error=[action.showIndexStatus.index.error[products-allinfo]]} |
| layout | Empty.vm |
| multi | false |
| indexName | products-allinfo |
| org.apache.struts.action.mapping.instance | ActionConfig[path=/search,scope=request,type=net.javacoding.xsearch.search.action.SearchAction |
| templateName | jeffplugin1col |
| org.apache.struts.action.MODULE | org.apache.struts.config.impl.ModuleConfigImpl@61905d65 |
| Header Name | Header Value |
| host | website4.co.uk:8080 |
| connection | close |
| Request Information | Value |
| Scheme | http |
| Request Method | GET |
| Request URI | /dbsight/displaySearchError.vm |
| Request Protocol | HTTP/1.0 |
| Servlet Path | /displaySearchError.vm |
| Path Info | |
| Path Translated | |
| Query String | indexName=products-allinfo&templateName=jeffplugin1col&length=15&q=2+Piece+Unicorn+Snooker+Cue++&booleanOperator=and&start=0 |
| Content Length | -1 |
| Content Type | |
| Server Name | website4.co.uk |
| Server Port | 8080 |
| Remote User | |
| Remote Address | 95.217.197.96 |
| Remote Host | 95.217.197.96 |
| Authorization Scheme | |
---
Category: Sporting Goods:Snooker and Pool:Cues
Location: Wetherby